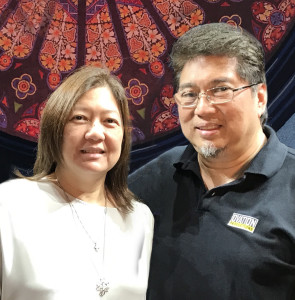 Ovation Productions is headed by veteran promoter Renen de Guia who is its President & CEO. Ovation promotes all genres from Taylor Swift to Petula Clark and from The Beach Boys to Metallica. Renen has vast knowledge of artists, markets, and the media. Ovation is the only concert promotions company that directly buys, promotes, and handles all production of its concerts 'in-house', including all production of its radio, TV, and print advertising. Ovation has expanded the markets for international artists in the Philippines by pioneering in all major and minor provincial cities in the country where it aggressively operates, aside from Metro Manila.
Renen started promoting international artists beginning with WEA Recording Artist and teenage superstar Leif Garrett in 1979 as a result of being involved in Leif's Philippine Promo Tour a year earlier. Renen, a radio and disco DJ then, was also  producing and hosting The WEA Record Revue & Dyna's Musical Express; both radio programs that aired on popular radio stations nationwide. He was also Artists & Repertoire manager for Polygram Records in Manila.
Through the years, Renen de Guia's Ovation Productions has handled some of the biggest names in live entertainment such as magician David Copperfield, Bon Jovi, Backstreet Boys, New Kids On The Block, Lady Gaga, Tony Bennett, Boyz II Men, Usher, Alicia Keys, Tears For Fears, Swedish House Mafia, American Idol Live Tour, Paramore, Incubus, K-pop superstars PSY and BIGBANG, Tiesto, The Killers, The Lettermen, Stone Temple Pilots, Engelbert Humperdinck, Chicago, Fall Out Boy, George Benson, Blood Sweat & Tears, Survivor, James Ingram, Marilyn McCoo & Billy Davis Jr., Kenny Rankin, Paul Williams, Dennis Lambert, Don McLean, Frankie Valli and the Four Seasons, Richard Marx, Jason Mraz, America, Patti Austin, The Beach Boys, Kenny Loggins, Michael McDonald, Pet Shop Boys, Human League, Sergio Mendes, The Glenn Miller Orchestra, Vertical Horizon, Evanescence, Bush, Steve Tyrell, Pitbull, All-4-One, Color Me Badd, Korn, Jack Jones, Kalapana, Randy Crawford, David Archuleta, Rupert Holmes, Peter Cetera, Bryan Adams, David Pack, The Manhattan Transfer, Metallica, Swing Out Sister, Babyface, Toto, INXS, Mr. Big, David Pomeranz, John Ford Coley, Christopher Cross, Boz Scaggs, Depeche Mode, Michael Bolton, Jessica Sanchez, Boyce Avenue, IL Divo, Tony Orlando, Magician David Blaine, Spandau Ballet, rock legends Crosby Stills & Nash, Melissa Manchester, KC & The Sunshine Band, Kenny Rogers, Tom Jones, The Stylistics, Cuba Gooding of The Main Ingredient, the annual ULTRA EDM music festival, Pat Boone, James Taylor, and co-promoted One Direction, Sam Smith, Ed Sheeran, The Vamps, The 1975, and Charlie Puth. Ovation Productions' first Broadway musical was Disney's Beauty & The Beast in 2015.
Ovation has also done special events like the IPTL (International Premiere Tennis League, the YouTube FanFest, and other big corporate events.
Even as he produced these major events, Renen was also into manufacturing garments and screen printing. He owned the 80's iconic TOP40 T-shirts, Fig Tree Christian-themed t-shirts, ladies' teens wear Bangles; a boutique called Everything Rocks plus 20 stores of Pop Station Records located in various major malls. He and wife Celinda are now into real estate; leasing out warehouses, buildings, and condo units in Mandaluyong and Makati.
Celinda Pe de Guia, is a B.S. Chemistry Graduate from the University of the Philippines in Diliman and consistent Dean's Lister at UST College of Commerce where she majored in Accounting. Cel is Ovation Productions' VP and Chief Financial Officer. Their son Bogie handles Production, Road Management, and Security.
Future events are Liam Gallagher of Oasis in August, Ed Sheeran in November, Debby Boone Sings Karen Carpenter in February, and Broadway musical Wizard Of Oz, among a number of others to be announced soon.